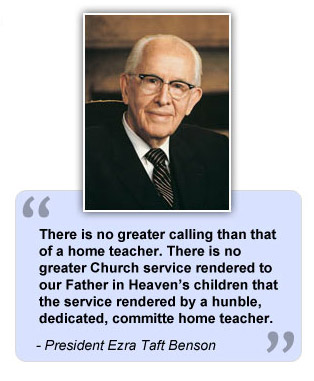 LDSplan.com is a website which makes scheduling, managing, and reporting home/visiting teaching much easier than in the past. Since August 2010 we've been making every effort possible to reduce the administrative frustrations of home teaching.
The owner of LDSplan, Curtis Ross, is based in Las Vegas, Nevada. He started out as a part time web developer with a desire to serve the LDS community. His first website, LDSphonebook.com, is currently helping people find businesses in their community which are LDS owned and operated. Today LDSphonebook.com has over 3,000 LDS businesses listed in 50 states and 8 countries.
Curtis now brings his next effort to home teaching with LDSplan. Curtis says, "All of my idea's start with a problem. The thing that pushed me to create LDSplan was the fact that the times when I was motivated to do my home teaching were never good times to call people. That simple problem meant my home teaching rarely got done."
President Ezra Taft Benson said: "There is no greater Church calling than that of a home teacher. There is no greater Church service rendered to our Father in Heaven's children than the service rendered by a humble, dedicated, committed home teacher." These words by President Benson are the motivation behind LDSplan. Home Teaching is the most important calling any member of the priesthood will receive, and yet it remains one of the least fulfilled. We hope that by creating this application we can make a difference. Whether that involves getting them to home teach more often, or simply reducing time spent on administrative stuff, it will mean more time with their families.
From LDSplan we thank you for being a part of this project and hope you will let us know if it has made a difference for you.